On Friday I snuck a short hike at Canal Park in Mont Clare into my day. The day following I worked three short hikes into my errand-running. And the first of the three hikes related to the hike in Mont Clare.
As I mentioned in the post about Canal Park, the long-abandoned Schuylkill Canal is in ruins up and down the river. Manayunk, Mont Clare, and Reading all have segments of the canal. So does East Coventry Township, just outside of Pottstown. Towpath Park is a strip of land between PA Route 724 and the Schuylkill River. The township park is small, but the seven acres and about half mile of walking is very pretty, and the towpath is well maintained. There are historical markers explaining the history of the canal, but aside from the elevated towpath the only other evidence there was a canal is a small pond at the edge of the park. This last weekend before the cold snap saw the leaves at part their peak, but not far past it. And like my time at Mont Clare, the light was wonderful for photos.
In addition to the towpath, pond, markers, and river, the park has the usual trappings – playground, pavilions, boat launch, and restrooms. But it also has a curious connection to pop culture. Directly across 724 from the park entrance is a a closed eatery called Pizza World, sitting in an untended field. The pizza place isn"t the first such establishment to be abandoned in that field. The previous occupant is immortalized in one of the most iconic images in pop music history.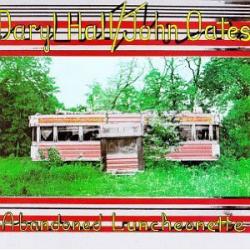 Everyone thinks the duo Hall and Oates are from Philadelphia, but that's only partly right. Darryl Hall was born in Pottstown, and went to school not far from Towpath Park. He saw the abandoned Rosedale Diner rotting in the field on Route 724, and when in 1973 he worked on his second album with John Oates he knew it would make a great album cover photo. Hall and Oates went onto bigger and better things; the Rosedale Diner was destroyed in a controlled fire in 1983. Fortunately for the next big pop music sensation, Pizza World is there for the CD cover photo…..